Be Happier and More Successful in Your Career!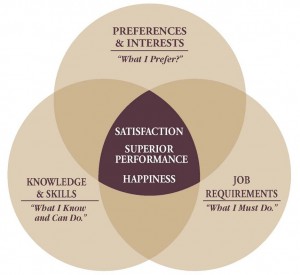 We often think of the search for career success as something that takes place entirely outside ourselves – by completing a big project, getting a promotion or finding a better job.
InnerSight understands that career success and satisfaction result from the internal process of aligning our daily activities with who we are as individuals. When what we do reflects our interests, preferences and gifts – when our work is an expression of some aspects of our true selves – we feel positive, empowered, passionate.
This is the call of the Knowledge age – to engage the whole person, rather than just our cognitive capacities.  As we cultivate these qualities, a job becomes an avocation. We collaborate rather than compete.  We co-create more than we lead or follow.  We are energized rather than exhausted.
These are the qualities that are in high demand in the Knowledge Age.  Our potential to experience them already exists within each of us.  To uncover them only requires that we open ourselves to a process of self-discovery, one in which we seek a deeper understanding of our preferences and interests and begin applying them in our professional lives.  As we do, we realize the aspects of our work from which we draw energy and satisfaction, and eventually, make professional development decisions that bring our work further into alignment with who we are.  In so doing, we uncover the power of the person — increasing our value as positive, enthusiastic, and effective employees in the Knowledge Age.
"It let me know or confirmed to me that what I would like to do is correct."
Gaffney Participant
Benefits of the InnerSight experience in career development:
Clarity of career path
Increased job satisfaction
The capacity to apply personal preferences toward improving communication, listening and teamwork
Increased ability to articulate who you are, where you are going, and what you desire to be