InnerSight Experience Engages Youth and Increases YouthSource Performance in Los Angeles
InnerSight Experience Engages Youth and Increases YouthSource Performance in Los Angeles
The InnerSight Experience is a foundation program element for YouthSource service providers. It consistently demonstrates a strong positive impact on the youth who participate as noted in the graph below. Statistical analysis over two program years clearly shows that YouthSource individuals who have the Experience and follow-up by case managers meet WIOA performance measures at significantly higher rates than those who do not have the Experience. Full text of these studies and other research may be found at
www.myinnersight.com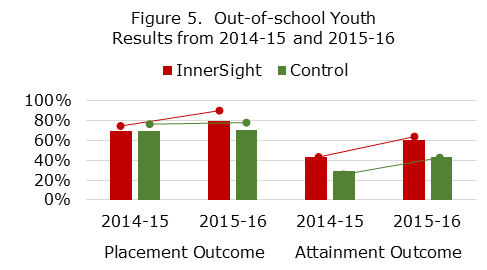 Qualitative research identifies why the Experience works. The Experience is grounded in the most important elements of student/youth engagement. From eight hundred ninety-nine (899) Experience evaluations, youth liked the fact that the Experience was all about them.
When the Experience is all about them, it becomes a powerful connector and "turning point". When it comes to career options it is all about their options not just possibilities. These options connect the Experience activity with participants' potential future goals, which is important in fostering engagement.
So why does the InnerSight Assessment Experience achieve significant empirical gains in WIOA success rates? When we listen to participating youth, it is because it connects. Everything is about them, from the InSight Guide booklet to the professional interaction in the session, and the cognitive content material is all about who they are and where they might go. The Experience is all about the participant and "the connect."
The City of Los Angeles YouthSource program has focused on positive youth development by establishing a common program element across the City. This consistent program effort produces significant WIOA results. These program accomplishments have been realized by "Putting the Person in the Process".