John Reeves, Executive Vice President and Chief Operating Officer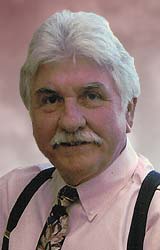 Mr. John Reeves is a psychologist and nationally recognized special education expert. He has over 30 years of experience in researching and assisting children and adults in understanding themselves, their capacities and preferences so they might realize their fullest potential. Through his career and research he has confirmed that we too often leave the person out of the process. He has led a nationally recognized program for special needs students and served as Executive Director of a County Education board. His years of leadership experience and research in special education and psychometrics have fostered the development of InnerSight® the personal, professional and organizational development service.
He is interesting, informative and fun to work with. He works effectively with people to develop a framework, vocabulary and capacity for discussing their interests and preferences so they can grow effectively as a person. He leads the sales and development efforts of InnerSight®.
Credentials
Assistant Principal and County Coordinator, McCarthy/Teszler School, Serving Seven Spartanburg County School Districts
Executive Director, Spartanburg County Board of Education
Director of Special Education, Spartanburg County School District Six
District School Psychologist Spartanburg School District Six
Education
Specialist in Education, University of Georgia, 1975
M.Ed. University of Georgia, 1974
BA, Georgia Southern University, 1972
Certifications
School Psychologist
High School Principal
Elementary Principal
Mental Disabilities (Mild and Moderate)
Elementary Teacher
Applied Behavior Therapy Coordinator
E-mail: jreeves@myinnersight.com