Qualities of Effective Learners, Workers, and Leaders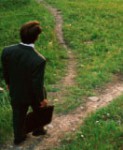 Passion. Positive attitude. Commitment to excellence. These are the qualities of effective learners, workers, and leaders – individuals whose personal and career choices are aligned with their preferences, interests and gifts.

This alignment is the cornerstone of the Knowledge Age, where the greatest potential for success lies in connecting what we do and how we do it to who we are. Seeking these connections places us on a path toward a fulfilling education, success at work and energized organizations; these rewards emerge when we release the power of the person.
"I am going to take this knowledge and run with it."
Jerrell Greogory
Put the power of the person to work in your life and in your organization. Explore the InnerSight Journey.